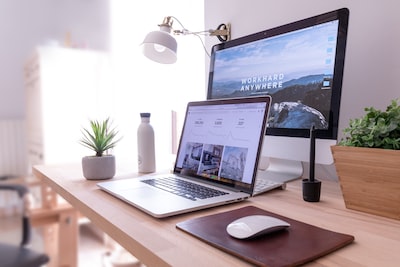 Have you ever found yourself wondering how to translate a website? If so, this blog is for you! In this overview, you'll learn about the reasons why you might need to translate a website, the various options that are available for translating a website, and the steps involved in translating a website. You'll also find answers to some common questions about webpage translation.
So whether you're looking to translate an existing website or just get started in the world of translation of websites, sit back, relax and push the Translate button.
Why You May Want To Translate a Website
Businesses of all sizes are using website translations to expand their global reach. For example, a business in the United Kingdom may want to translate their website into Spanish or Portuguese to attract a Spanish- or Portuguese-speaking audience (mind the target country, though, as Spanish used in Spain is different from that used in Mexico just like Portuguese used in Brazil is different from that used in Portugal). There are many reasons why you might need to translate a website, and this article provides a comprehensive overview of the different options and why they might be necessary.
Whether you need to translate a website manually or use an automated tool like Google Translate website, be sure to select the right language and dialect for your specific needs. Not all translations will be always accurate, so make sure you are aware of the potential risks before starting the translation process.
Basic Options for Translating a Website
Translating a website can be a daunting task, but it's not impossible. In this blog post, we'll cover the different options for translating a website, explain their benefits and drawbacks, and recommend a translation service that's right for you.
Before you go any further, it's important to understand the different types of content, language, and your audience that you're trying to translate. After that, it's up to you to decide which route to take - human translation or machine translation.
With machine translation, you can save time by automatically converting text into another foreign language, but there is a risk of making errors. On the other hand, human translation is more time-consuming but can be more accurate. It's also important to factor in the cost of translation service and make sure they cover your industry and go-to markets.
So, which translation service is best for you?
Human Translation
There are many different translation options available, but human translation is the most reliable and accurate. This is because a human edits the text before it's sent to the client, preventing any potential errors. Moreover, this option is also the most expensive as professional linguists charge by the word count of source text translatable. It takes time for a human translator to process the content into the target language with the quality clients expect.
If you only need a single language translated, a freelancer is the way to go. However, suppose you need translations done into multiple languages or have complex project requirements (e.g., simultaneous website localization into multiple languages). In that case, a services company may be a better fit for you.
Machine Translation
When it comes to machine translation (or automatic translation), there are two main types - statistical and neural (yes, rule-based used to be used, also as a hybrid with statistical, but it's all mostly in the past now).
Statistical machine translation is less accurate and is currently used much less than the newer neural machine translation (NMT). NMT engines are considered more accurate in translating from one language to another, mimicking human translations in many ways. In many cases, an average reader is not able to say whether a translation was done by a machine or a human.
---
Related content: How Much Does Website Translation Cost?
---
How To Translate a Website (8 Ways)
Website translation is a necessary task for any business, but if it's your first time - it can be really hard. We get it, that's why we're here to help!
Here, we'll be taking a look at how to translate website content using different methods. Let's start by examining 8 different ways to translate website content and go from there. So, whether you're looking to translate entire websites or just certain sections, buckle up!
1. How To Translate a Website in Google Chrome
If you're looking to translate a website from one language to another, Google Chrome can help you out in a snap. All you need is the original URL of the website in the address bar, the language you want to translate it into (or languages), and your translation engine of choice. There are many different applications available online - for example, Google Website Translator. Once you have set up your translation engine, all you need to do is select the text that needs translating and hit "Translate". You'll then be presented with an automatically translated version of the page!
2. How To Translate a Website in Firefox
Translating a website can be easy if you have the right tools and settings installed. To translate a website in Firefox, simply follow these steps:
1. Make sure you have the appropriate translation tools and plugins installed.
2. Click on "Firefox": gear icon > Add-ons > Translator or click on the button located at the top toolbar of your browser window.
3. Type in the URL of your target website in the address bar and hit "Enter".
4. The page will load in English with its original language underneath it - for example, if we translated this website into Spanish, our browser would show us La Prensa's original page followed by la página traducida en español (The translated page). As you translate each word, it will be highlighted in red. Hit "Finish" when you're done to save your work!
3. How To Translate a Website in Safari
If you want to translate a website, Safari is the best way to go about it. With its built-in solution, you can easily translate most pages of your website without any hassle. However, make sure all online content is translated before publishing it - this will ensure that everything comes across correctly and comprehensively.
GTranslate is also a great option for translating Safari websites - it offers an accurate translation with the minimum of fuss. Finally, you can publish your translated site on web servers that are accessible from different parts of the world so everyone can enjoy the new look!
4. How To Translate a Website in Microsoft Edge
If you're looking to translate your website into different languages in Microsoft Edge, there are a few different options available. Microsoft Translator is the best tool for this as it preserves all formatting and features of the original site. Whether you need to translate one page or your entire website, our article on how to translate a website in bulk with it will help you get started quickly in Edge.
5. How To Translate a Whole Website with Google Translate
If you are looking for a way to translate your website into a different target language, or if you need to move your site to a new country or domain, Google Translate can help. To use Google Translate correctly, there are a few important settings you need to understand. You will also want to make sure that the translation process is accurate - by checking the results of the translation before making any changes. While it may not be perfect every time, using Google Translate can save loads of time and effort when translating text on your website or the entire website into another language.
6. How To Translate a Website on an Android Mobile Device
If you are looking to translate your website onto an Android mobile device, there are a few different options available. There are many accurate and user-friendly translation apps on the market you can use for this, for instance, DeepL or Systran. Usually, it's enough to enter your website URL, and the software will start translating the site immediately. You can also use these translation applications to translate text or entire websites - making them a great option for small business owners who need to translate their entire site at once!
7. How To Translate a Website on an iPhone
There is no need to be techrified when it comes to translating websites, especially on Apple products. With a step-by-step guide and various translation services available, translating a website on an iPhone or iPad is easy. Regardless of the language you're working with - English, Spanish, French - making sure your translations are accurate and reflect the brand's voice accurately is crucial. If done correctly, customers should have little trouble understanding what you're offering. However, if your translations aren't up to par then they might get frustrated or confused as to why something isn't behaving in the way that it ought to.
---
Related content: 15 Simple Ways to Kill Your Multilingual Website
---
FAQs about Webpage Translation
The Internet is a global village, and as such, businesses need to be able to translate their website into different languages. Not only this, but different regions of the world need different translations of website content in order to be accessible. This is where the translation of websites comes in. A freelance linguist or a translation agency can translate website content into other languages. They can use different machine translation tools to do this, or do it themselves (companies often outsource that type of work to a service provider).
The cost of web page translation can range from free to expensive, depending on the complexity of the project and the translation language pair being translated. There are no negative effects to using a freelancer vs a translation company, as long as both parties are clear about the job and the timeline.
What is a webpage translator and how can it help me?
This software lets you quickly take a website from one language to another. This is particularly helpful with long passages of text or page code. These solutions can be helpful for business purposes such as translating customer testimonials and articles, or even for personal reasons such as learning a new language.
How does a website translator work?
This solution works by taking your website's content and translating it into foreign languages. Once the translations are loaded onto the web server, they can be viewed by browsers from around the world. A variety of such tools exist, and many use machine learning to improve their accuracy over time.
What are the advantages of a website translator?
There are many advantages of using a tool of this type. Some of the benefits include:
You can translate your website or blog into other languages without having to hire a separate provider for each one.


It allows you to customize your website or blog for different countries without any difficulty.


It also helps you translate content from English into another language without any trouble.
What are the disadvantages of a translator program vs human translation experts?
Here are also some of the disadvantages:
Incorrect and incomplete translations: Translation tools are fast but not perfect which can lead to errors in your translation.


Slow localization: This process takes time, especially human translation can add delay in getting your website online.


Additional costs: Using it can also incur extra costs, like hiring an expert or outsourcing the task to a professional translation company.
How do you choose a good web page translator?
When choosing an application of this type, it is essential to consider a number of factors: price, speed, and accuracy.
For a human translation, some of the important things to take into account when choosing a linguist include their experience in the language you are translating, their rates, the language pair they are most experienced with, and whether they have worked on similar projects in the past.
Additionally, it's always helpful to read user reviews and feedback before making your choice. This way, you can get an idea of the quality and accuracy of the translated material.
How much does it cost to use a translator for your website/business?
There is no one-size-fits-all answer when it comes to using a translator for your website or business, as the cost can vary depending on the level of translation and how many pages need translating. However, here are a few general tips that may help you save money in the long run:
Estimate how much translation work is needed upfront and budget accordingly.


Look into online tools that are free or have subscription fees. These tools allow you to translate entire projects or selected phrases at once, making the process faster and easier.


Do your research and ask around - most web hosting companies may offer translation services at a cheaper rate than a third-party solution.
---
Related content: 6 Tips on Preparing Your Content for Translation
---
What about multilingual SEO?
One of the most important aspects of web page translation is SEO. SEO stands for "Search Engine Optimization," and it refers to the techniques that a website or business use to improve their ranking in Google search results. When potential customers find your website through search engine results pages (SERPs), they will see an accurate, professional-looking translation if you have hired a translation specialist who understands how to optimize websites for search engines.
Additionally, good web page translation ensures that all text on your website is language-agnostic - meaning that it can be translated into any language without affecting its appearance or functionality. This is an important factor for global businesses, as many customers now shop online in multiple languages.
What about WordPress?
WordPress is a popular content management system (CMS) that allows webmasters to create and manage their websites. WordPress translation options are plentiful, and many third-party providers offer WordPress translation services as part of their overall business offerings. If you're looking for an easy way to add languages to your website without any HTML coding or design expertise, the WP plugin may be the perfect solution for you. So, if you're looking for a multilingual WordPress site, there are many existing tools out there, from WPML, through Weglot plugin, and many others.
The WPML enables you to translate your website content into more than 50 languages, integrating closely with CAT tools like memoQ.
Weglot allows you to translate websites into multiple languages. It includes more than 150 languages and can be used with any browser. Just use the address bar and open the visual editor to proceed.
No matter if you need a free WordPress plugin, a plugin like Weglot, or a translation management system with API integration or any other widget to handle the job, you and your websites are covered thanks to the many supported languages available in these tools.
Finally, don't forget these tools enable you to do much more than we're discussing here, for instance, localize documents, emails, PDF files, software UI with all the text boxes, search bars, dropdown menus and more with their visual editors available in your preferred language.
Your website visitors will surely appreciate your homepage and your care for overcoming language barriers. After all, new customers in new markets are what you are looking for, right?
Who's the King?
Content is king and translated content rules your global audience. But you need to be careful whenever you want to add chosen languages to your website. This makes translation an important process that can help you adapt your website to multiple languages and regions. And a multilingual website is the portal to your international growth.
By understanding the basics of website translation features, you can get started on a project that will benefit your business in the long run. Website translations can be daunting, for sure. Automatic translations are very helpful but with huge, high-visibility websites they cannot compete with the entire process that only specialized translation companies can offer.
In this blog post, we've covered different options for translating a website, as well as answered some Frequently Asked Questions (FAQs). Now it's time to enter that URL in the address bar and hit the Translate icon!
---
Recommended articles:
Want a Successful Multilingual Website? Ask These Questions
Why Website and Software Testing Is More Important Than You Think
Website Localization Into Multiple Languages at Once: Pros and Cons