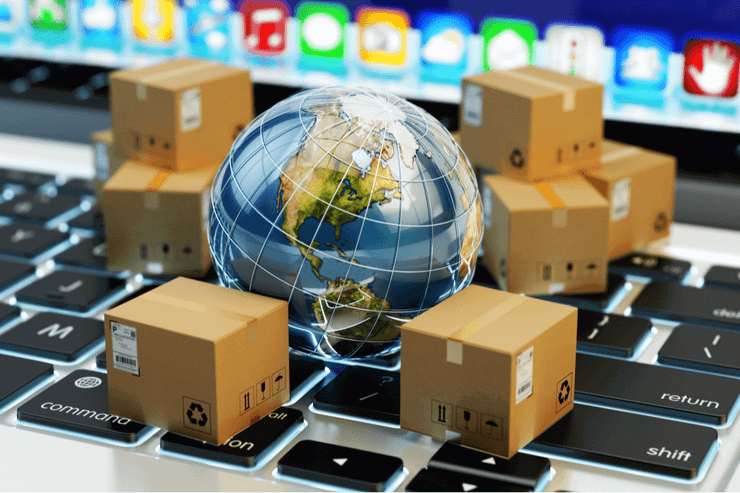 E-commerce growth and localization services go hand in hand. Platforms and websites can't attain global success unless they use local languages to communicate with potential and existing clients.
The numbers leave no room for improvisation. 75 percent of people worldwide want to buy products in their native language. And an impressive 92.2 percent prefer to shop online on sites that list prices in the local currency.
E-commerce localization enables you to provide website visitors with an excellent service from the moment they land on your online store until after they make purchases. That's because when you localize your e-commerce, you adapt it to meet the specific needs of every local audience that you target.
You'll do more than speaking the language like a native. Localized e-commerce adds value to the customers by giving people what they want, when they need it and through tools that they're comfortable using. And when people stop by and like what they find, they're more likely to remain on your website long enough to buy from you.
Here's how e-commerce localization boosts your revenues and what you should do to streamline your customer's buying experience on your website to close sales.
1. You Reach Customers
In 2017, one-quarter of the global population bought online and spent $2.3 trillion. According to Shopify, in 2021, the e-commerce market will generate business worth over $4.5 trillion, with the highest growth to be seen in Asia, North America, and Europe. Cross-border shopping is also on the rise, as online stores are accessible anywhere on the globe.
With the right strategy in place, you can communicate with an international audience and ensure consistent sales. The more people you can drive to your website, the higher your chances of boosting your revenues. And here's where localization services come in.
When it comes to reaching more customers, localization helps you with boosting SEO and increasing the ROI of your marketing efforts.


E-commerce Localization and SEO
When you translate and localize your e-commerce, you make it more visible online. E-commerce localization helps you to place your platform where people are looking, right on the first page of search results. Let's see how translation and localization influences your international SEO strategy.
Keywords. Localization means optimizing for the right search engines, such as Baidu or Yandex, using local keywords and link building strategies. The key is to perform local keyword research before translating and integrate these words naturally within your content--just like you did for the original version of your e-commerce, but for multiple languages.
Local Search. E-commerce localization can even help you reach your ideal customers with local search when carried out correctly. With the right sitemap and URL structure, Google and other search engines will identify your website as a local supplier and list you among other businesses from the same region.
Site Speed. It's another element that influences your website's SERPs. The pages of your e-commerce should load in two seconds or less. Otherwise, people lose patience and start looking for products somewhere else.
Relevant content. Translated content makes it possible for your website to be suitable for local queries. If you deliver top-notch content, visitors will spend more time on your website, take action, and, overall, improve your metrics, which are all indicators of the relevancy of your website.


Localizing Your Global Marketing Strategy
International SEO techniques ensure consistent traffic to your website, but you also need marketing to thrive in local markets. After all, competition is fierce, as you get to compete with both local retailers and other international e-commerce platforms.
Localizing your marketing strategy means adapting your brand message to multiple markets to attract local customers. You need to take into account the cultural diversity of the markets that you target and adjust your message to connect with every local audience individually.
At the same time, your localization efforts should focus on keeping a unique brand voice across markets. You can redesign your website, do a slight brand makeover, or modify your marketing material to accommodate various visuals and text sizes. However, you can't give up on your brand voice or core values. This way, you get to remain authentic and consistent in your messages, both essential qualities of a successful brand.
2. You Add Extra Value to the Table
Localization allows you to treat all your customers the same, regardless of the language they speak. You get to share valuable information with everyone and help potential clients make educated buying decisions.
People don't trust advertising anymore. You need to capture their attention and convince them to stick around with quality content. As part of the localization project, you translate and localize landing pages, product descriptions, newsletters, blog posts, and other useful information. It's all stuff that your potential clients can use to make their lives easier.
People need in-depth product descriptions, price comparisons, tutorials, and social proof to proceed to checkout their baskets. 72 percent of customers never take action without reading reviews about a product. If you don't give them this type of information in a familiar language, people will look for alternatives.
On the other hand, the more you can tell people about the products you sell, the higher the chances to make them buy. If you take the time to put together technical details, the benefits of purchasing a product, and maybe even professional advice on how to use the item, you show people you care about their needs.
It's a long-term investment that pays off in more ways than one. If they're satisfied with the value you provide for the money, they'll come back for more. In time, you get to improve traffic, conversion rates, and customer retention, which ensures long-term business growth.
3. Your Brand Overcomes Cultural Differences
Localization services and cultural insights go hand in hand. While localizing your e-commerce, you do more than a word-to-word translation of your website. You're not merely rewriting your titles and product descriptions into a foreign language, but you also adapt the entire platform to meet the expectations of a new audience.
Every population has a cultural background that influences the way they act online. How they search for a product, what they need to know about it before buying, or how they like to pay for purchases.
When localizing your e-commerce, you curate web design, images, video content, and a series of technical details that ensure buyers have a seamless experience while making purchases. It also includes setting prices in the local currency and converting metrics to a system that buyers are familiar with.
There are two other crucial elements to consider at this stage, the checkout process and payment methods. Both have a remarkable influence on the sale, and they require localization. A better checkout design can improve e-commerce conversion rates by more than 35 percent!
As a general rule, people hate creating accounts and filling more than 10-12 form fields to complete an order. What they like is having several payment options to choose from. Besides PayPal and credit/ debit cards, you also need to integrate local payment methods. Some examples are Alipay (in China), OxiCash (in India), and even paying with cash in convenience stores (in Argentina, Chile, or Japan).
4. You Personalize the Shopping Experience
Another way e-commerce localization boosts your sales is by helping you to leverage on local holidays and specific buying habits. For instance, Chinese people around the world celebrate Single's Day on November 11.
Since 2009, when Alibaba decided to run a sale on this day, the holiday has become the Chinese version of Black Friday. The local stores offer a series of special discounts and promotions, making November 11 the country's biggest spending event of the year. If you want to sell in China, you need a highly personalized campaign to compete with the locals.
The same is true for every market that you target. Every country and region has its local celebrations, each with specific traditions. If you localize your campaigns to include local holidays in your marketing calendar, you get to personalize the shopping experience and impress local customers.
The further you can go with customizing the personal experience, the better for your bottom line. Luckily, there are plenty of tools you can implement to track data about your customers and personalize their interactions with your online store.
While localizing, consider integrating software to track geolocation, search queries, browsing behavior, and purchase history for every person who arrives on your website. Personalization can increase your business profits by 15 percent! That's because three out of four customers are more likely to buy from a retailer that recommends products based on previous purchases and remembers the names of the buyer.
5. You Build Trust Among International Customers
Localization also helps with compliance, which has a double impact on your bottom line. First, it helps you to keep your business away from legal issues of any kind, and second, it builds trust.
A good part of your localization project should focus on the legal and business translation of product documentation, disclaimers, and cybersecurity. You should also make sure every version of your website has its privacy and return policies explained in simple words that people can easily understand.
67 percent of shoppers check the return policy before buying online. And if your return policy doesn't convince them, maybe the next one, from your competitor, will. 92 percent of customers will buy from an online store again that has a friendly return policy.
Other elements that help you build trust with international buyers are customer support in native languages. Helping customers who don't speak your language can become a challenge, especially when you don't have a physical presence in all geographical regions that you target.
The solution is to provide a localized FAQ section on your website that explains everything that buyers need to know when purchasing from you. Alternatively, you can implement multilingual chatbots as an interactive way to connect with your audience.
Final Thoughts on E-Commerce Localization
E-commerce localization is a puzzle. A series of technical details and tailor-made content need to get together to ensure the best shopping experience for every person who arrives on the website.
It's not rocket science, but you shouldn't underestimate the importance of doing things the right way, either. Every mistake you make on the road can cost you brand reputation, clients, and, eventually, revenues.
E-commerce localization requires a reliable partner to guide you while learning to communicate with multiple cultures. A professional translation company works with translators and localization experts. Professional linguists understand how valuable your brand voice is and have the language skills necessary to communicate your values in multiple languages, just like you would do it yourself.