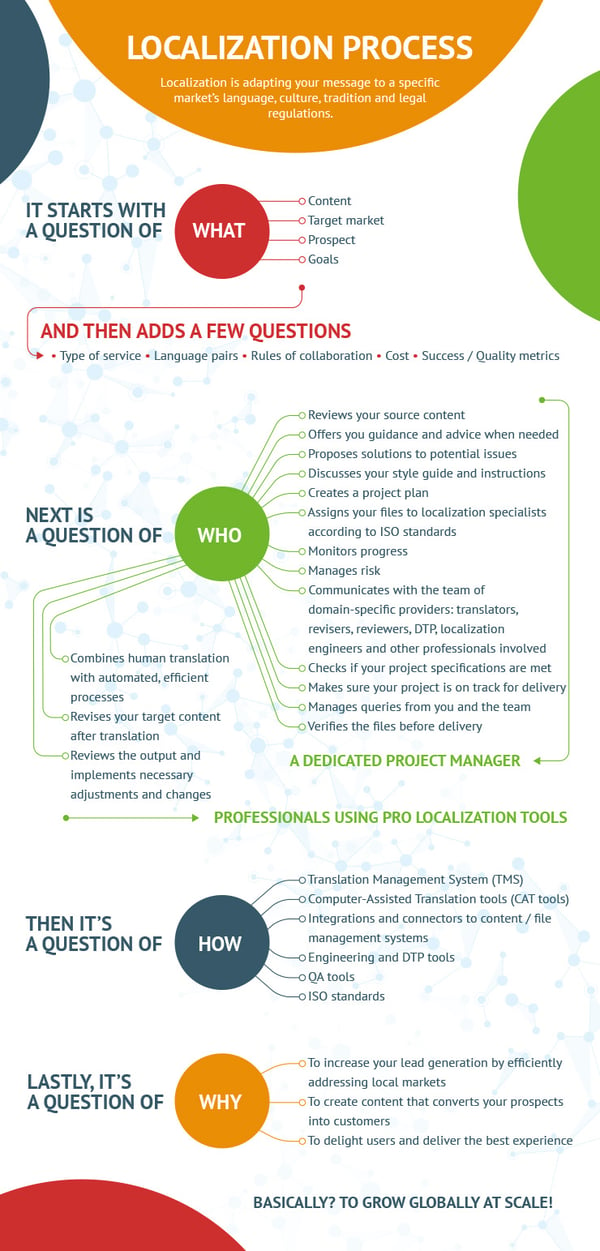 Localization is adapting your message to a specific market's language, culture, tradition and legal regulations. The definition is as simple as that. The localization process itself, however, is not so simple. I like things simply put, though, even those that refer to quite complex processes, so here it is.
All the necessary knowledge about the localization process revolves about four questions:
WHAT
You create your content and you almost hear people cheering you and your success, the bosses nodding their heads in acceptance, your co-workers looking at you with admiration. Because you are the king - just like content is. You know the target market, you understand your prospects, you know what to say to them and how to say it. Your goals are always in the center of your focus, to keep those leads coming in, the ROI growing and your company expanding into local markets.
And then an important thought kicks in: local markets mean local languages, culture, tradition, religion, law and what not. Being the king that you are, you understand that in order to become a part of that market, your company has to become local too. And the way is simple: LOCALIZATION.
So you analyze your potential language services partner in terms of the type of service they provide (marketing translation, technical translation, machine translation, what have you), you check whether they cover the language pairs you require for your international expansion plan, and when you are ready to decide, you discuss the principle of collaboration.

How your projects are handled, whether you are assigned one project manager for all your projects, you discuss the process and the files, deadlines and potential style guides and instructions, tools and management systems. Of course, to be able to choose exactly what you need, it would be useful to know what to look for, right?

And then there's the matter of cost and quality/success metrics which should also be treated as an important part of the discussion when considering localization company. After all, even though it's not trendy to talk about quality right now, it is the unspoken truth that quality is the queen.
WHO
Localization is a partly automated process and like any such process, it is handled by humans. It means that your projects are in the hands of a dedicated project manager.
A person who reviews your source content, assigns files to linguists and other project resources and monitors the progress of the whole process every step of the way. Apart from taking care of the technical side of the project, the important role of a project manager is offering guidance, shedding light on potential issues and coming up with solutions.
And there are also linguists - professionals who do the work on the actual files. They combine human translation with automated processes, thanks to pro localization tools, making the process efficient and spotless.
These professionals also revise your target content after translation and review the output. If there is a need for changes and adjustments, they implement them to ensure the expected quality is delivered.
HOW
TMS, CAT, integrations and connectors to content/file management systems, engineering as well as DTP tools, QA tools and ISO standards, are all the elements that make it possible for your translation provider to deliver on time, on spec and on budget. They all help you succeed in whichever market you decide to conquer.
WHY
You probably heard or even asked this question at some point: why localize? Here it is:
To increase your lead generation by efficiently addressing local markets.
To create content that converts your prospects into customers.
To delight users and deliver the best experience.
BASICALLY? TO GROW GLOBALLY AT SCALE!
Be sure to not leave without downloading the localization process infographic.