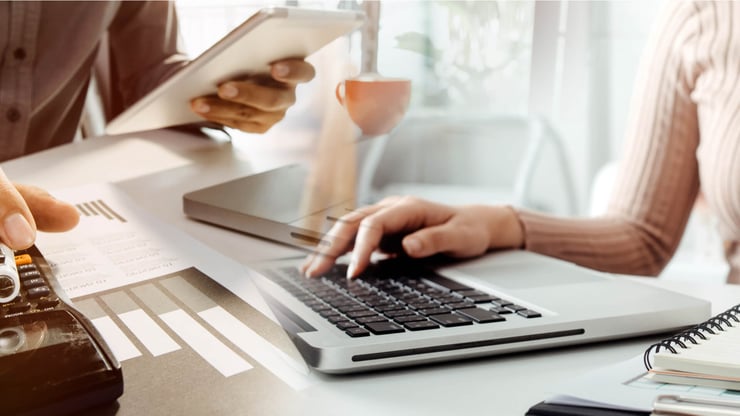 How much does hiring freelance translators cost? How much does it cost to use a professional translation agency? Do translation companies provide different services than freelance translators? If so, which is best for you?
Thanks to ATL's experience in working with end-clients, other translation companies, and freelance translators, this article was created to compare the costs of translation services offered by a localization company and translation by freelance translation professionals.
This is to help you decide which path to choose when you plan your translation budget.
Comparing the cost of hiring translation services to the costs of hiring freelance translators is like comparing your lunch break to your summer vacation. Both serve the same purpose: They help you grow your business internationally.
---
Related content: Freelance Translators Vs. A Translation Agency: An Honest Comparison
---
Let's see what is included in the translation service provider's price compared to the cost of freelance translators'.

In general, the range of, for example, document translation cost may vary from $10 to $100 for one page. It depends on the language, number of words included in the document as well as some other factors about which you can learn more in this article.

1. Translation Service Availability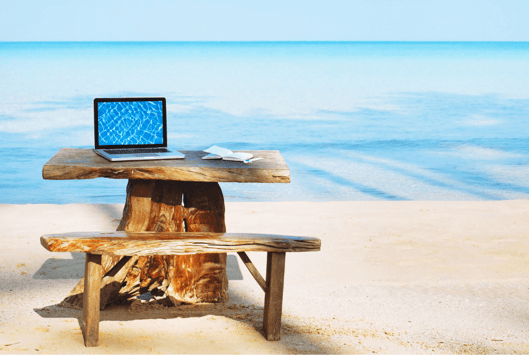 One of the challenges that many clients face while working on their localization project is the availability of the translation team.

Whenever you may need a small update or just a few words to be translated in a rush while maintaining the content's consistency and quality, what you expect is a quick turnaround time.

Freelance translators' availability is very often variable. In some cases, this will suit your needs, but in others - it won't. When the only person responsible for your localization project is on vacation, it means your content translation is put on hold.

Companies offering professional translation services know how to manage such risks and this is one of the building blocks of the added value they offer. Thanks to the collective efforts of the whole team, the localization company is able to provide better availability than a single person.
---
Related content: 5 Benefits You Get from Working With a Translation Agency
---

Advanced organizations incorporate technology in order to support clients and their localization needs. And it doesn't matter if the office is open or closed. This happens through all sorts of customer portals accessible 24/7 or integrations that connect systems and streamline translation workflow.

What is more, localization companies cooperate with translation teams consisting of several professional linguists, so they always have a back-up.
2. Saving on Translation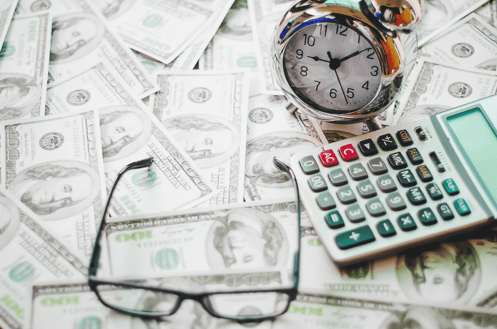 The use of the translation software called CAT (Computer Assisted Translation) tools enables localization companies to lower your translation cost.

This software can analyze the text in the original document and search for what is referred to as repetitions. Repetitions are words in segments that contain exactly the same text and that follow identical word order and punctuation marks (coma, period).

The number of words that are repeated in these segments is calculated and presented in the statistics. You can see how many segments are repeated, how many words are in the repeated segments, as well as the number of characters included in the repeated segments.

One of the reasons that you can generate savings for repetitions is the Translation Memory. The Translation Memory is a database that stores all the segments together with their translations. There are usually 8-levels of match types used on word count statistics taking into consideration the TM matches.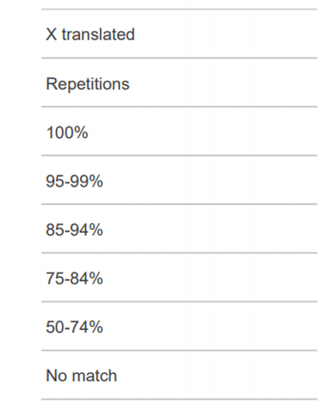 Each of the levels (except for the No match and 50%-74% match) is entitled to a discount. As you can see, there are repetitions there too.
---
Related content: A Quick Explanation of TM Matches [video]
---

Here is an example of what it may look like when it comes to the percentage, if the per new word rate is applied.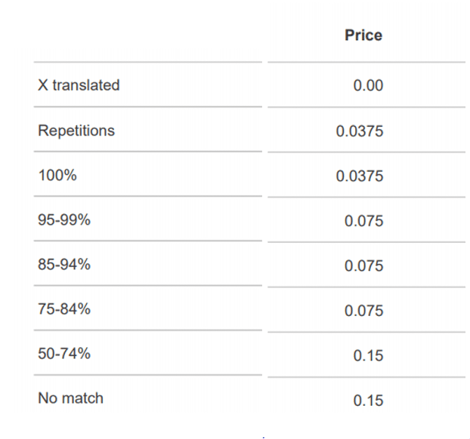 As you can see, the higher the TM match, the less you need to pay. That means the more can your TM be reused for your new translation assignments, the more you save on your content translation.
---
Related content: How to Really Save on Translation and Localization
---

Who can use translation software?
Anyone who decides to buy and install it can use translation software as long as they know how to use it properly. The basic functions are easy to learn. For managing the more advanced modules and automations, more experience and knowledge is needed.

So, what is the difference?

Unfortunately, there are still many freelance translators that refrain from using CAT tools and Translation Memory technology. These linguists refuse to use CAT tools thus sacrificing translation speed, quality, and consistency.
Translation services provided by translation companies are always supported by the use of the most appropriate technology. Translation companies often use a variety of CAT tools or Translation Management Systems (TMS).

Thanks to localization engineering and file preparation capabilities, you can be sure that your project will be handled, no matter what file format.
The cost of purchasing the translation software, updating it, and managing the project in the CAT tool environment is covered by the translation service provider.


Translation companies are not only equipped with various translation tools, but very often they provide licenses to the client's in-country reviewers, so that they can carry out the translation quality checks using the proper tools and processes.
They also collect the feedback and easily implement it into all the project files. They are also able to generate all sort of reports on translation progress, savings, or quality.


3. Integrating Your CMS With Translation Software to Reduce Your Translation Cost
Translation service providers can also integrate translation software directly into your Content Management Systems (CMS). The connections enable fast and efficient content flow.

Translation integration allows you to assign texts for translation more quickly and monitor the progress of your localization project. It also speeds up the implementation stage, given that the translated text is returned exactly to its original location. It all happens automatically, behind the scenes.


Such connections can be created through existing integrations, APIs, or custom solutions. All of these require investment and experience, which is usually out of reach for a freelance translator with no localization engineering background.


---
Related content: 50+ Translation Integrations That You Should Know About
---

Integrations cut the cost of file management, updates management, and document versioning. It also enables you to clearly see the progress of each assignment.

You can quickly estimate the cost of an update or new content translation which helps to plan and secure budget for localization projects.

4. The Cost of Feedback Implementation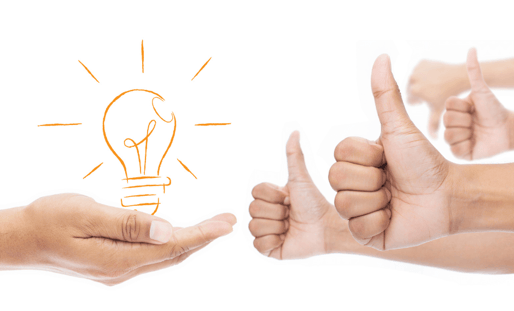 When you cooperate with various translators, there may be several people working on your content translation. Such workflow is absolutely correct as long as you have the personnel as well as the budget for managing the implementation of feedback and updates.

When the translated text is reviewed by the internal reviewers, like, for example your local dealer or marketing team member, some important steps need to be taken afterwards.

One of the steps is checking the corrections.
The reviewers often introduce one correction and ask for its implementation throughout the translated project. They sometimes change the translation of a key term to your brand. In this case, it is not enough to simply acknowledge the fact that it has been changed, but what needs to be done is a complete cross-check of this change's consistency with the remaining parts of the project.
---
Related content: How to Measure the Quality of Translation
---

Sometimes reference material needs to be updated, and very often the changes need to be incorporated into the Translation Memory and Glossary.
If these steps are overlooked, not only does the text become inconsistent but the inconsistencies can be repeated further into the project as the translation continues.

Such services are most often included in the professional translation services offered by localization companies, whereas they are not likely to be conducted by freelance translators, or as an additional service to translation jobs.

5. The Cost of a Fast Translation Turnaround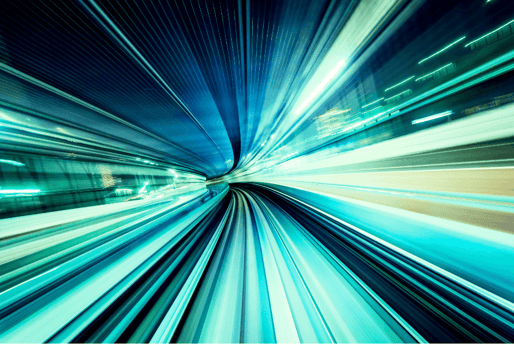 A linguist translates, on average, 3,000 words within 8 working hours.
This applies to translating manuals, documentation, help documentation, or websites that are not too overloaded with marketing. The same amount of time is needed to translate about 2,500 words of marketing content or websites with heavy marketing.
---
Related content: How to Reduce Turnaround Time for Content Translation
---

With regard to programming translation and UI, the number of translated words is lower. An average freelance translator needs roughly one workday to translate 2,000 words of software-related content.
---
Related content: A Guide to an Efficient UI Software Localization Process
---

If you need more words translated daily, what you need is a group of freelance translators. Problem solved?

Not so fast.

Dividing content between a group of freelancers leads to certain problems, like:
Different ways of translating the same pieces of text within the project;


Lack of communication unless you manage it;


Multiple emails, etc. (Organizing the linguists' work may lead to many back and forth emails).
Translation services include team management in their rate. Translation companies use technology and industry best practices in order to streamline the communication and content flow process.

Consequently, your Translation Memory is updated in real time and all the linguists can save, and in turn reuse their translations for consistency.
In this scenario, several translators are working on one project, and all their translations are immediately saved into one shared Translation Memory.
---
Related content: How to Boost the Translation Into Multiple Languages at Once
---


It is possible to organize the process for all the team members to work almost simultaneously. This is the value that translation companies can bring thanks to the technology applied to your projects and project managers who are assigned to your content translation, and carefully select the most convenient solutions to your localization needs.


6. What Do Translation Services Include

When comparing the rates for translation provided by a freelancer and the translation service provided by a translation company, make sure to compare the number of steps included in the process. Otherwise, you are simply comparing different services.
---
Related content: How Much Do Translation Services Really Cost? [Rates & Factors]
---

Freelance translators will most often quote for the translation or the revision step. They can either translate the content or check the translation provided by another professional. It is not a good idea to assign translation and revision to one freelancer, because it simply misses the point.
---
Related content: 5 Ways That Translation Revisors Affect Your Business Growth
---

In the majority of cases, what is included in the translation service offered by a translation company is both: translation and revision. Both steps are conducted by separate linguists. That is possible thanks to the wide pool of freelance translators that translation companies cooperate with on a daily basis.

It also influences flexibility with regard to the subject matter areas that can be covered by translation companies in comparison to a freelance translator.

One freelance translator can be an outstanding subject-matter expert when it comes to marketing but may lack the ability to translate legal content. If your project needs both, you need several experts.

When your content needs transcription, graphic localization or translation of video content, you will have it done under one roof when cooperating with a translation company.


If you choose to cooperate directly with freelancers, don't forget about the cost of finding, testing, onboarding, updating, and managing the linguists and other localization specialists.



Translation Services Go Further to Adapt to Your Needs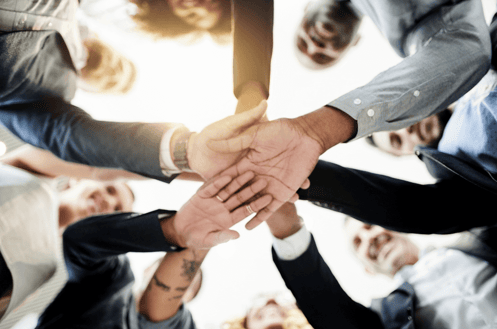 Translation bought from a localization company costs more than translation bought from a freelancer.
But when thinking about buying a single translation service, make sure that you are aware of what it may force you to sacrifice:


The access to a wide pool of tested translation professionals working in all subject matters and all the language pairs you may need;


Saving on translation services thanks to the use of the latest translation technology;


Managing tight deadlines without compromising quality and no additional management on your side;


Review management, implementation, reference material update and enhancing proper information flow among all the localization team members including: translators, revisers, reviewers, designers, engineers, terminologists, testers etc.;


Implementation of the localization workflow built specifically to meet your existing process requirements, including integrations between your Content Management System and translation software;


And more, depending on your localization needs.
Generally, the price of services offered by a translation company is higher than going for a simple translation step provided by a freelancer.

But you should be aware of the cost of all additional steps that are not included in a single translation conducted by a freelancer. These are crucial to the success of your localization project.
A translation company is able to save you from managing the workflow on your own, from slowing down the whole project, or struggling with translation quality.

The value included in translation services is worth the investment. It brings you closer to your international clients more quickly and with less management effort on your side.
Whichever you choose, make sure that translation doesn't slow you down and lets you enjoy your international business growth to the fullest, instead of giving you headaches.
---
Recommended articles:
5 Reasons to Connect Translation Software With Your System
4 Reasons Brands Reject Translation Companies That Could Be Right for Them