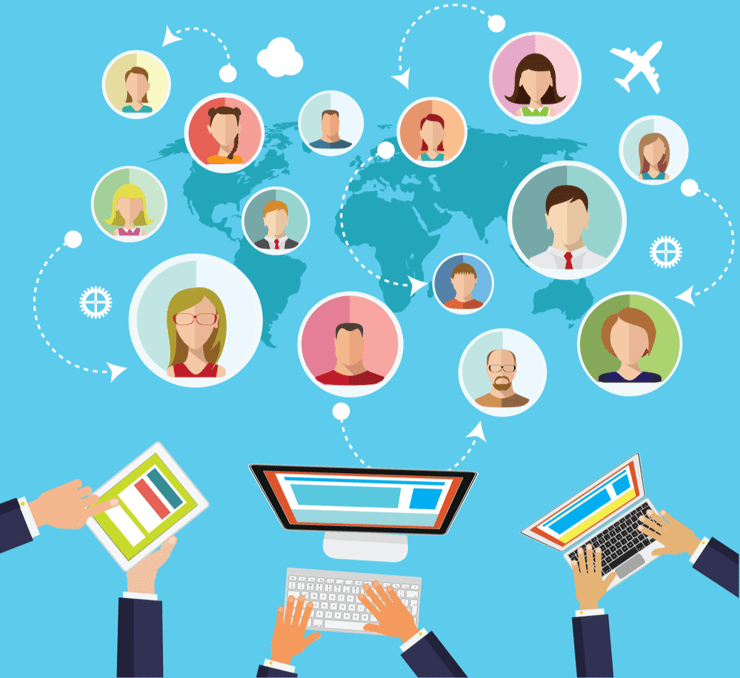 Translation technology has never been closer to humans and businesses than it is at this very moment.
Creating any type of multilingual content whether personal or professional is supported by localization solutions every step of the way.
Businesses thrive on technological advantages in content creation, management and distribution in different languages and save time and money on automated continuous localization process. Let's face it, this is a turning point.
What about global communication? How is it affected by translation technology if at all? Especially now. By the end of March 2020, cloud communication solution leaders are experiencing exponential growth, record valuations expressed in billions of Dollars and 3-figure overloads of their core infrastructure coming mainly from the unexpected peak in the use of conferencing and communication tools.
They work 24/7 as the opportunity won't wait until the dust settles. Last but not least, they don't cut budgets for bringing their solutions closer to international customers, quite the opposite, actually.
Because it is right here right now that people need them. And they are there to solve their challenges and make it easier to embrace this huge change everyone is experiencing these days.
Localization and Video Conferencing User Experience
People prefer tools that they fully understand. And it doesn't matter whether the companies are forced to use video conferencing tools due to a worldwide lockdown caused by a pandemic, or they choose these solutions simply because they fall perfectly in line with the way they do business.
If video conferencing tools offer the users the service in their own language, this will enhance their experience. How? It's simple, really.
Offering the full interface and user instructions in the users' native languages will make the use of the tool easy and smooth. And it will also reduce the stress level of its users.
After all, not everybody feels confident while having a video conference and when operating a tool that is not fully understandable, because of the language, it will make it a difficult and stressful experience.
Making any digital experience as seamless as possible should be your goal when it comes to winning your video conferencing tools audience all over the world.
Localization and Unified Communications User Experience
Instant messaging, email, voicemail, scheduling meetings, VoIP and video calling, web conferencing, screen and document sharing are all present in the business world and are here to stay.
As it is with browsing, purchasing, video conferencing, e-learning and any other user experiences, people tend to prefer to operate in their own language. This allows them to limit the confusion, eliminate errors in judgment and any miscommunication.
This enables them to have the stunning experience that they deserve. Unified communications localization makes communication smooth by allowing access to information in the language that the users fully understand which helps them feel in control.
In the times when the words communication and collaboration are so close due to the growing digital workforce, enabling the global workforce to collaborate and communicate in the smoothest way possible is the choice to make.
Communication, as the key to successful collaboration, needs to be streamlined and accessible in any aspect. It secures achieving goals like increased productivity and profitability, enhanced user experience and growing businesses globally.
Easy, clear and accessible communication empowers people to collaborate, share knowledge and succeed which in result enables businesses to thrive.
The translation and localization industry helps achieve all that when implemented in the tech solutions development process.
And no, it doesn't mean slowing things down because of complex and time-consuming processes.
It means speeding them up thanks to translation technology solutions that every translation provider worth their salt has in place.
Where to Start Video Conferencing Translation and Why Now
Do your research. Do it now.
The fact that things have slowed down, it just means that they will get busy. And it will happen sooner than you think. But then it will be too late to lead.
Check the markets your tool will resonate best in. Using your data thoroughly will help you establish the languages to go for. If you are not sure which languages to even look into, click the button below.
---
Related content: 15 Languages for Translation That You Should Know About
---
Remember that you do not have to localize into all of them. You can start small with one, two or three languages and let it take your business to the next level. You can choose what exactly you need to localize and which markets to focus on. The same way other big players in global industries do.
---
Related content: How to Boost the Translation Into Multiple Languages at Once
---
Thorough market research, supported by the guidance of a professional translation provider, will help you decide what and how you want to translate to best suit your business strategy.
What You Need for Perfect Video Conferencing Translation
You need proper tools, like CAT tools (Computer Assisted Translation tools), that offer automation and cost-cutting solutions like Translation Memory.
In order to save time and money, your translation needs to be done with the use of proper tools that guarantee reduced costs of localization. Saving on your budget and your time to focus on your main goals and tasks is one of the things to look for.
You also need translation integrations. These will make the whole localization process as swift as possible.
Using the right localization connectors will make the translation delivery fast and in time for you to meet your audience's expectations and deliver them the best experience that is possible.
In the times of technological solutions at every corner, translation integration is an important aspect to look for when considering a localization company to trust your content with.
---
Related content: A Lack of Translation Integration With Your System: Trouble Alert
---
You need smooth workflows and verified processes as well as a dedicated project management team that will handle your translations in a professional, fast and cost-effective way.
The quality of your service that you offer to your audience depends highly on the quality of the translations you receive and use. Make sure you get the best translation quality so that you can deliver the best experience.
---
Related content: How to Measure the Quality of Translation
---
You need to focus on your main tasks and on what you do best and for this, you need the right localization company.
---
Related content: How to Really Save on Translation and Localization?
---
To make sure you choose the perfect translation provider for your business, ask some relevant questions.
Will I save time and money if I partner with them?
Do they offer the localization integrations I need?
Do they use the tools that I approve of?
Are they ready to shift their processes and tailor them to my business strategy?
Will they automate the localization process without compromising the translation quality?
Will they offer support and guidance resulting from long-term experience?
Will my tools benefit from this company's translation expertise?
Will my customers' experience be truly enhanced after they deliver the localization outcome?
Are there any case studies I can look into and verify the localization company's experience?
These are only a few of the questions you need to answer to make a fully informed decision.
---
Related content: 13 Questions to Ask a Translation Company Before You Choose Them [checklist]
---
In the highly technology-driven business world, delivering multilingual solutions to global users is the right choice, no doubt.
The thing to focus on is choosing the right partner that offers the proper tools for your business to benefit from and succeed globally in a fast and cost-effective way by delivering your users a stunning experience.
Make your customers your brand evangelists by enabling them to communicate globally with their preferred tool and in their own language.
Deliver your video conferencing tools and UC systems to your global audience in different languages and watch enhanced communication and collaboration happen through improved user experience.
---
Recommended articles:
How Much Do Translation Services Really Cost? [Rates & Factors]
4 Reasons Brands Reject Translation Companies That Could Be Right for Them